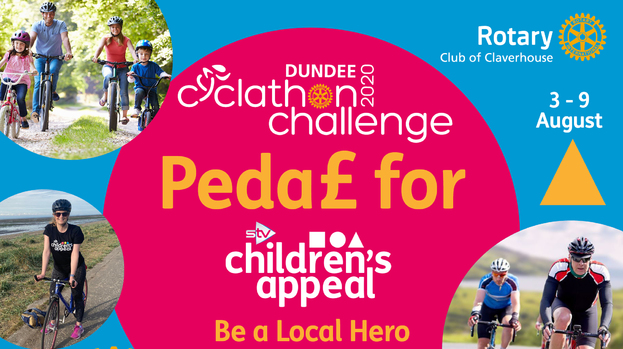 Haley Bouma, STV North reporter and presenter, and Lawrence Shankland, Dundee United striker, joined members of the Rotary Club of Claverhouse at Broughty Ferry Castle to celebrate the launch of the Dundee Cyclathon Challenge 2020.
Due to lockdown restrictions, this year's Cyclathon, organised by the Rotary Club of Claverhouse in aid of the STV Children's Appeal, will operate differently to previous Cyclathons over the past 15 years. Participants can cycle where they want, how far they want and when they want during 3rd – 9th August and can even participate indoors on their exercise bikes.
The Cyclathon Challenge is for fun and is not a race. Entrants can join on their own, with their family or as a team with neighbours or friends from school, university, club or work to add to the fun.
All funds raised will go to the STV Children's Appeal to support the 1 in every 4 young people in Scotland who are living in poverty. Haley Bouma explained "The Dundee Cyclathon Challenge is a great way for everyone of all ages and level of fitness to set themselves a goal and have some fun achieving it, while making a huge difference to some of the country's poorest children."
"By getting on your bike, going for a spin and raising money through your efforts, you can provide essential supplies like food, nappies, toiletries and gas and electricity to reach those who really need that help, particularly now during the pandemic."
Lawrence Shankland echoed Haley's comments, saying "We want everyone in Dundee with a bike to get involved in this brilliant event and have fun at the same time. The more money we raise, the more Dundee children can receive the help that they so desperately need. Let us all get on our bikes and show what we can do for our kids in Dundee."
Participants will be known as "Dundee Heroes" and can register for the Cyclathon by visiting the dedicated website where more information on the event can be discovered. A hero's medal and certificate will be awarded to each entrant with the opportunity to enter a Lucky Draw to win an exciting prize.
Pat O'Connor, President of the Rotary Club of Claverhouse, said "Dundee folk always help each other out in times of crisis and the recent pandemic has caused more hardship than ever before. We want lots of Dundee Heroes to join in the Cyclathon and cycle to raise money to put smiles on the faces of our local children. You can cycle as far or as little as you want, it is entirely up to you. Come on Dundee, let us make this year's event the biggest Cyclathon yet."
Registration is now open at www.dundeecyclathon.com