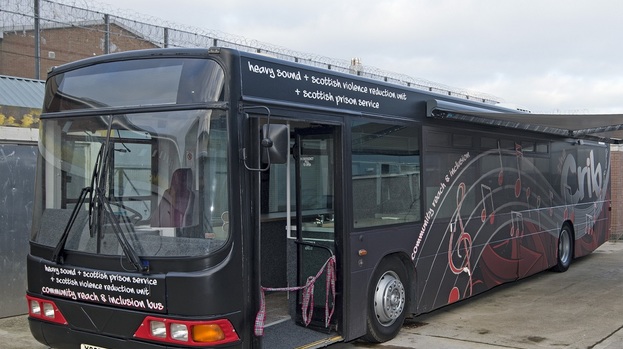 Today marks the unveiling of a very special project – a brand new bespoke community bus for Edinburgh and the Lothians, run by Community Interest Company Heavy Sound. The newly refurbished 40-foot single decker will take innovative projects, support, education and advice to the heart of communities.
In the first collaboration of its kind, The Community Reach & Inclusion Bus (CRIB) was renovated by a group of around 20 men and women from HMP Edinburgh, in partnership with Police Scotland's Violence Reduction Unit and the Scottish Prison Service. The project has helped provide residents in HMP Edinburgh with valuable technical training and skills and the opportunity to be part of a project that aims to impact positive social change.
The bus was bought for £1 from First Bus by Heavy Sound and has been transformed to include a creative learning space for writing and working on music making activities. It features mobile recording facilities, presentation screens, music-making equipment & instruments, IT and office space, a kitchen and a hairdressing space.
Additionally the CRIB provides Heavy Sound, whose work with young people aims to reengage them through projects such as rapping, song-writing and DJing, with a vehicle to bring their work directly to the heart of the community, making their services much more accessible. The bus will offer support for young people and families on matters including health, housing, social security, finances, employment.
The CRIB has been funded by the STV Children's Appeal, which supports children and young people affected by poverty in Scotland. By improving access to resources, opportunities and services, the project aims to improve life chances for Scotland's young people, particularly in areas of multiple deprivation.
CEO & Lead Practitioner of Heavy Sound, Jordan Butler, said: "The project gives us and our partners the opportunity to bring new and innovative activities and engagement strategies supported by essential services into communities and places that are isolated. It will give people a chance to engage in things on their own terms that they are interested in, without any pressures. The activities in communities will be developed around those communities and will create new resources, opportunities and links between people."
David Abernethy, Governor, HMP Edinburgh said: "When Linda and Jordan approached us to help renovate the bus it would have been easy to say no, because prisons don't normally do this kind of thing. But I thought about it and I could see very quickly that there was a real connection between what they wanted the bus to do and what we in SPS are trying to do to help people turn their lives around. The staff and residents who have worked on this project have really enjoyed it and feel they have achieved something really worthwhile. One of the residents said that it felt great to be able to be involved in something so powerful and it made him feel that just because they've ended up in prison it doesn't mean they will be stigmatised and ostracised for the rest of their life. Therefore this project and what the bus stands for not only gives hope to those that will use it in the community, it has already given hope to those who have worked on it in the prison. Heavy Sound and the Violence Reduction Unit have been great partners to work with and I hope we can get the chance to do more with them in the future."
Niven Rennie, Director of the Scottish Violence Reduction Unit, commented: "The collaboration has seen the prison community work on a project where they have been able to give something back to the communities some of them come from. We are delighted the CRIB will be used to take services into hard to engage communities and look forward to supporting the people who come on board to get the services they require to live lives free from violence and the effects of violence."