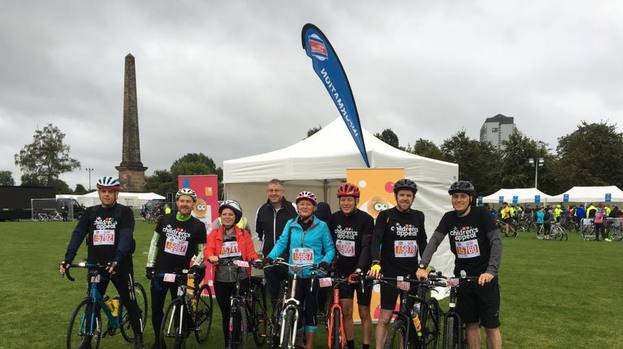 We are thrilled to be a charity supporter of Pedal for Scotland for a seventh year running and hope to see even more people join Scotland's biggest bike ride to raise money that will make a difference to the lives of Scottish children affected by poverty. Throughout our partnership, Pedal for Scotland has raised over £500,000 thanks to our amazing supporters and participants.
With Pedal for Scotland celebrating their 20th anniversary in 2019, you can be sure that it will be a special day for all involved and there are a variety of ways to take part, from the iconic Classic Challenge from Glasgow to Edinburgh and the Big Belter from Glasgow to Edinburgh.
Each year thousands of people can choose from a range of rides that accommodate for all ages and abilities. Register and become a part of this here
The big day is on Sunday 8th September 2019
Have a look at the variety of bike rides available depending on your age and ability:
Wee Jaunt Edinburgh
The Wee Jaunt Edinburgh is a family friendly and traffic free 10 mile bike ride. Starting in the beautiful town of Linlithgow, taking in the final 10 miles of the Classic Challenge route to the finish and event village where riders will find in a range of activities for all ages.
Classic Challenge
The Classic Challenge is a 45 mile bike ride from Glasgow to Edinburgh. This is the event's most popular ride and attracted over 6,000 participants in 2018. Why not challenge yourself, and take part with friends and family to raise money for great causes, the Classic Challenge really is a fantastic day out on your bike.
Big Belter
The Big Belter is a Sportive ride of 100 miles from Glasgow to Edinburgh. The ride uses the same start, first 25 miles and finish points as the Classic Challenge ride, meaning you get the buzz of Scotland's biggest bike event on a quieter route designed for serious roadies. You'll encounter some steep climbs and some challenging descents - the Big Belter is for those who want a serious challenge and want to put in the time to prepare for it.
Once you've signed up the easiest way to raise and collect money is by setting up your own fundraising page online, this allows people to donate quickly and securely. You can do this through Just Giving
Step by step guides on setting up your page can be found here
You can also download a sponsor form here
Good Luck and Thank You for helping children and young people affected by poverty in Scotland.