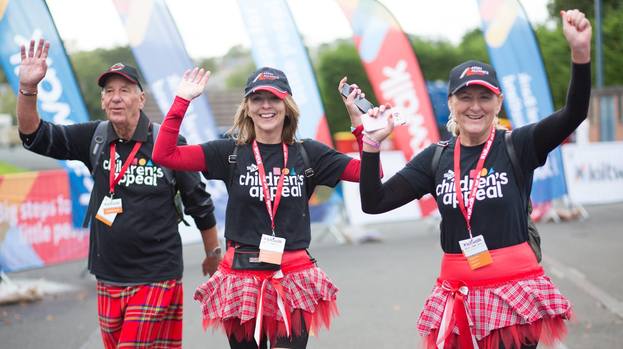 The Glasgow Kiltwalk on Sunday 28 April is the first of this year's Kiltwalk events, and what better way to enjoy the outdoors with friends, family or colleagues - while also supporting a good cause?
Where your money goes
The STV Children's Appeal will once again be the Official Kiltwalk Grant Making Partner in 2019. This year, the money raised for STV Children's Appeal by Glasgow Kiltwalkers will fund a very special project. Working in partnership with children's charity Calum's Cabin, the STV Children's Appeal will fund a much needed flat providing free, short-term accommodation for families of sick children, who are travelling to Glasgow for cancer treatment.
The flat will be located in Glasgow but will benefit families from across Scotland with a child who is receiving treatment for a cancer-related illness at the Royal Hospital for Children or the Beatson West of Scotland Cancer Centre.
Caroline Speirs is co-founder and chairperson of Calum's Cabin, based on the Isle of Bute. The charity is named after Caroline's son, 12 year old Calum Speirs, who passed away in 2007, just over a year after being diagnosed with a brain tumour.
Caroline explains: "Many families who have children with cancer are required to travel from all over Scotland to Glasgow's primary treatment centres for specialist care. The mounting cost of travel and accommodation is often a huge burden for families, adding even more stress and worry to their lives.
"With your Kiltwalk Kindness, STV Children's Appeal and Calum's Cabin will be able to offer families a relaxing, comfortable place that feels like home, allowing them to spend time together and feel supported during an extremely difficult time in their lives - without the financial burden.
"To everyone who is fundraising for Kiltwalk at this year's Glasgow event – you are helping to make a huge difference for families who need support."
SIGN UP NOW
With something for all ages and abilities, choose from The Wee Wander, The Big Stroll or The Mighty Stride.
Sign up for Glasgow Kiltwalk Sunday 28 April 2019
Every penny you raise by walking the Kiltwalk will be boosted by a 40% top up from The Hunter Foundation and Team STV will be there on the day to cheer you on!