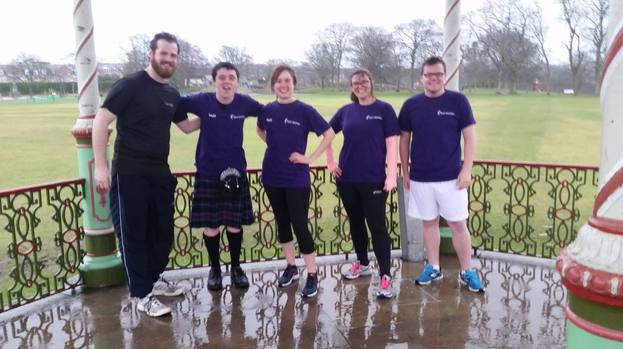 Sport Aberdeen on the March for Children's Appeal.
A hardy crew of Sport Aberdeen employees are set to take on the Kilt Walk Challenge in aid of the STV Children's Appeal.
Following on from a successful fundraising event for the charity, staff from the Aberdeen organisation were eager to continue their involvement with the appeal and happily accepted the offer to face the infamous Kiltwalk.
Sport Aberdeen successfully raised over £360 for the STV Children's Appeal during a 'Super Sunday' event, where the public were invited to take part in a full day of various exercise classes and make a donation towards the cause.
The event was a great success with classes at full capacity throughout the day as participating fitness fanatics trudged through hours of intense workouts, all in the name of charity and fitness.
Following the fundraiser, staff from Sport Aberdeen were also eager to do their part for the charity which had proved to be a remarkable cause. Enthusiastic employees were quick to agree to march in this summer's Kiltwalk when approached by STV to raise more money for the Appeal.
Consisting of two routes, Sport Aberdeen staff will take on the longer of the Kiltwalks routes, the Mighty Stride. A 26 mile slog starting from Duthie Park through beautiful local scenery before concluding at Potarch.
A rigorous test even for experienced walkers, Sport Aberdeen employees are looking forward to the challenge and more importantly are eager to raise as much money as possible for the charity.
Commercial & Events Manager, Sam Begg said: "The Appeal has gone from humble beginnings to one of the biggest charities in the country and the good work they do is nothing short of incredible. We are proud to be involved with the appeal this year and hope we can continue to raise even more for such a worthy cause."