Postcode checker
Type in your postcode and house number below and we will tell you when the switchover will affect you.
What is the digital TV switchover all about?
Well, it's the process of turning off the UK's analogue TV signal and replacing it with a digital signal. If you know what that means, you probably won't need to read the rest of this. But just in case...
When does Digital Switchover affect Scotland?
The Digital Switchover in Scotland is now complete You are watching Digital TV. Or, if you're not, read on.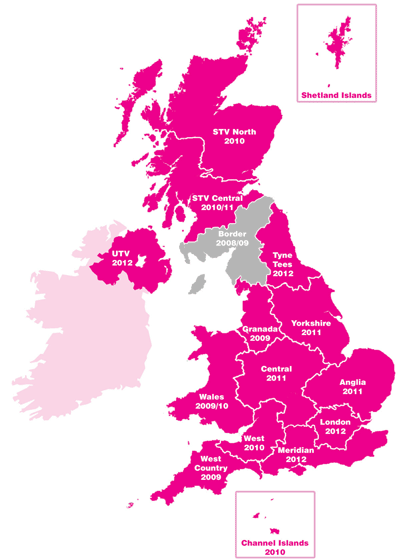 The benefits of going digital
If you already watch your television via satellite, on cable or with Freeview box, you'll know that Digital TV offers new ways to enjoy your TV service:
Greater choice of TV channels
New features such as on-screen listings, interactivity, audio description and subtitling for people with visual and audio impairments.
Optional additional channels and services including premium channels(e.g movies, sports), broadband and telephony.

The digital switchover is now complete. If you have not converted the TVs in your house to digital you will no longer be able to receive TV signals. To find out more about what "going digital" means - answering everything from "Do I need a new TV" to "Which TV service can I access" – go to www.digitaluk.co.uk
What is Digital UK?
Digital UK is the not-for-profit organisation leading the process of digital switchover in the UK. It provides impartial information about what people need to do to prepare for the switchover