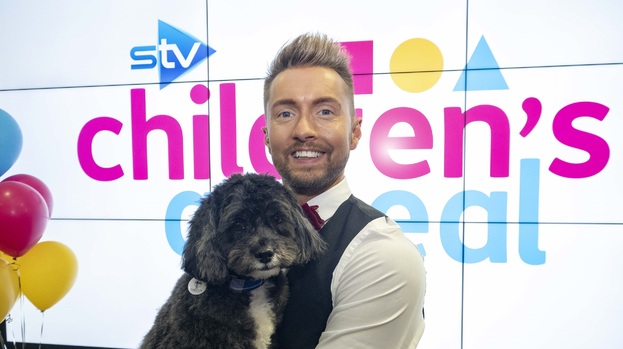 Another successful fundraising campaign reached its climax on Friday 4th October with the annual live STV Children's Appeal Show, the culmination of a line-up of special programmes that have aired over the last three weeks. With over £19 million raised since its launch, the STV Children's Appeal supports children and young people across Scotland and these programmes showcase fundraisers and the causes the Appeal is responding to.
The programmes aired from Wednesday 18 September, culminating in the annual live STV Children's Appeal show hosted by Lorraine Kelly on Friday 4 October.
The special Appeal line-up featured fundraising events such as Strictly Kids dancing competition, and the Big Scottish Breakfast, which saw Masterchef Gary Maclean and STV presenters Sean Batty, Andrea Brymer, Chris Harvey and Laura Boyd join fundraising events across Scotland hosted by schools, businesses and community groups.
Viewers also heard about the charities and community projects supported by the Appeal and found out how the money makes a real difference to the lives of Scotland's children.
The live STV Children's Appeal show also featured a host of famous faces, and a one-off special Scottish version of hit quiz show Celebrity Catchphrase. Hosted by Stephen Mulhern and his animated sidekick Mr Chips, celebrity guests Sean Batty, Loose Women's Kaye Adams and 2018 finalist of Love Island Laura Anderson had their to chance to 'say what they see' as they played for a chance to win money for the STV Children's Appeal.
Lorraine Kelly, trustee of the STV Children's Appeal said: "It's been another fantastic year for the STV Children's Appeal and once again, we have seen an incredible level of support from communities up and down the country. This year we've seen so much generosity as schools, local businesses and individuals have given their time and commitment to raise funds for children and young people in Scotland – whilst having lots of fun together.
If you missed out on watching these programmes live, the good news is that they are all now available on the STV Player. The programmes available are as follows:
STV Children's Appeal: Smiles Across Scotland - Aired Wednesday 25 September at 8pm on STV The second programme in the line-up celebrates the fantastic fundraising heroes across Scotland who have given their time and effort to support the Appeal in 2019. Sean Batty joined in with Big Scottish Breakfast fundraising activities and STV News reporter Chris Harvey hosted a spectacular fundraising dance competition in Glasgow where there was lots of glitter, sequins and donations. Viewers will hear from fundraisers from across Scotland who have been walking as part of the Kiltwalk to raise funds, as well as hosting their own events to raise some cash.
Viewers will also learn more about how the STV Children's Appeal donations have helped families across Scotland featuring Disability Sport Fife and Calum's Cabin – a charity helping families affected by childhood cancer.
To watch on the STV Player, follow the link below -
https://player.stv.tv/episode/3u31/stv-appeal-2019/smiles-across-scotland/
STV Children's Appeal: Scotland's Hidden Hardships – Aired on Wednesday 2 October at 8pm on STV Despite being in employment or studying to better themselves to improve the prospects for their families, the number of working people living in poverty continues to rise. This hard-hitting documentary will feature three families from across Scotland examining the challenges they face in their daily lives and showcase the impactful work being done by communities and projects to provide support.
The documentary features experts from the field of child poverty and community activists with their own lived experience of poverty and in-work poverty who are now channelling that into helping other families.
The documentary is available on the STV Player via the link below -
https://player.stv.tv/episode/3u6i/stv-appeal-2019/scotlands-hidden-hardships/
STV Children's Appeal: Live with Lorraine - Aired Friday 4 October from 8.30pm – 10pm The annual STV Children's Appeal live show returns with host Lorraine Kelly celebrating another fantastic year of fundraising for Scotland's children. Broadcast live from Glasgow, Lorraine is joined by presenter Emma Cameron and weatherman Sean Batty with links to Andrea Brymer, Lynne Rankin and Nicola McAlley in Aberdeen - before the total sum raised by the Appeal in 2019 is revealed.
To watch on the STV player, follow the link below -
https://player.stv.tv/episode/3u8b/stv-appeal-2019/fri-04-oct-8-30-pm/