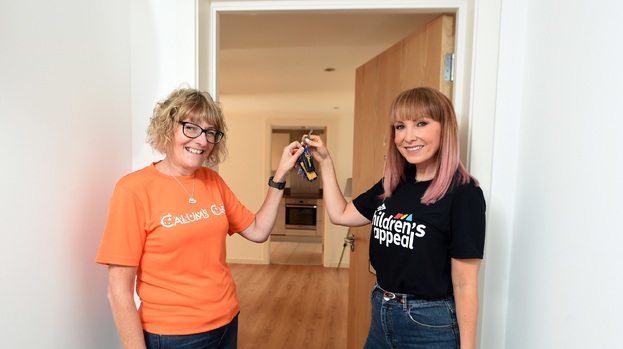 STV's entertainment reporter Laura Boyd met Caroline Speirs, co-founder of charity Calum's Cabin, to hand over the keys to a new flat which will provide living accommodation dedicated for use by families of children who are undertaking treatment for cancer.
The generosity of Glasgow Kiltwalkers supported by the STV Children's Appeal has enabled the purchase of much needed longer term accommodation for families of sick children. The Glasgow-based property will ease the burden and cost for families whose children have to attend the Royal Hospital for Children or the Beatson West of Scotland Cancer Centre from The Highlands and Islands and Borders. At present Calum's Cabin have three flats and are renting two, so this additional flat will make a huge difference to many more families.
Caroline Speirs is co-founder and chairperson of Calum's Cabin, based on the Isle of Bute. The charity is named after Caroline's son, 12 year old Calum Speirs, who lost his fight for life in 2007, just over a year after being diagnosed with a brain tumour.
Caroline explains: "Many families who have children with cancer are required to travel from all over Scotland to Glasgow's primary treatment centres for specialist care. The mounting cost of travel and accommodation is often a huge burden for families, adding even more stress and worry to their lives.
"With the help of the STV Children's Appeal and Kiltwalk, we can provide families a relaxing, comfortable place that feels like home, allowing them to spend time together and feel supported during an extremely difficult time in their lives - without the financial burden."
Entertainment reporter Laura Boyd is a great supporter of the STV Children's Appeal, having taken part in many fundraising events including this year's Glasgow Kiltwalk. She said: "I can't think of anything more important than having a place for families to stay close to their young ones when they're going through treatment. Calum's Cabin will ease the burden by providing a comfortable place to stay, easing the financial pressure and taking on some of the stresses which will be invaluable for these families who are going through the toughest time.
"I live with cancer myself and know how important it is, even at this age, to have your family near and this is a fantastic addition to Calum's Cabin. It is my pleasure to hand over these keys on behalf of the STV Children's Appeal."
ABOUT STV CHILDREN'S APPEAL
The STV Children's Appeal is committed to helping children and young people affected by poverty in Scotland. The money raised by the STV Children's Appeal helps make a real difference in the lives of Scotland's children and young people by providing practical help like food and warm clothes; creating opportunities for training and employability; and enabling social and emotional support for those who need it most.
In eight years the Appeal has raised over £19 million. This has allowed us to make 1102 big and small awards for projects across all 32 local authority areas in Scotland, providing much needed support to over 79,000 children and young people.
The charity was launched in 2011 by The Hunter Foundation and STV. In 2013, The Wood Foundation pledged its support to the Appeal for projects in the North East.
Every single penny raised by the STV Children's Appeal stays in Scotland and 100% of donations are spent on the children who need it most, as all overheads are met by STV and The Hunter Foundation. In 2019, the Scottish Government once again committed to match fund the first £1m raised.
STV Appeal SCIO SC042429