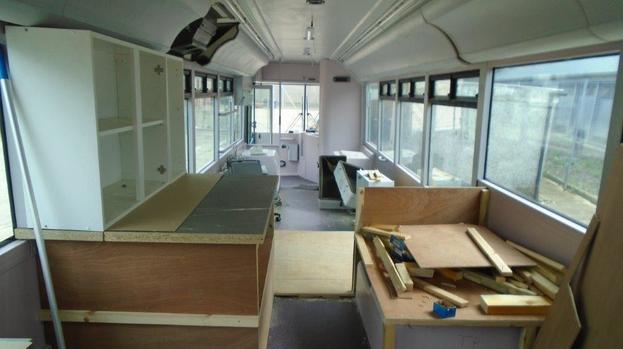 Working in partnership with social enterprise, Heavy Sound, Kiltwalkers will support the STV Children's Appeal in funding the development of the Heavy Sound Community Reach & Inclusion Bus - an innovative project in partnership with the Scottish Violence Reduction Unit and Scottish Prison Service which will travel into communities to support local young people.
The Community Reach & Inclusion Bus is a 40-foot single decker which will be refurbished to provide music-making facilities, a small hairdressing unit, a kitchen and interactive presentation screens, IT and office space.
The bus will take music projects, vocational training, and educational and advisory sessions on matters including housing, benefits, finances, employment, and health straight into the heart of the community.
The bus was sourced by Heavy Sound and renovations will be funded through the STV Children's Appeal and carried out by the Scottish Prison Service, giving prisoners new training and employment opportunities. The Scottish Violence Reduction Unit is partnering Heavy Sound in this exciting project which will see the bus visit schools and local communities, providing innovative prevention initiatives and giving people improved access to resources, opportunities and services.
CEO & Lead Practitioner of Heavy Sound, Jordan Butler, said: "This is a great opportunity for us to take new approaches to reaching people, especially those who might not normally engage with services or activities. By going into communities and being really visible, running exciting and different types of music programmes and other activities we are including people from all backgrounds and making services accessible.
If this had been available to me when I was homeless or getting into a lot of bother it would have helped me to take a more positive direction - it would have been life changing".
Natalie Wright of the STV Children's Appeal, said: "For anyone considering taking on a fundraising challenge, I urge them to sign up for the Edinburgh Kiltwalk in aid of the STV Children's Appeal. It's a fantastic event and money raised will go towards getting the Heavy Sound Community Reach & Inclusion Bus out to communities delivering services and activities that will make a real difference to the lives of children and young people affected by poverty in Scotland."
The Kiltwalk is bigger and better than ever with STV Children's Appeal receiving 140% of all fundraising to help the 1 in 4 young people affected by poverty in Scotland. The Edinburgh Kiltwalk takes place on 15 September 2019 with a route from Holyrood Park through Fisherrow Links and onto the city's promenade. You can register to take part via the Kitwalk website - https://www.thekiltwalk.co.uk/events/edinburgh/.
For further information, please contact the STV press office:
Katie Martin 0141 300 3109
katie.martin@stv.tv