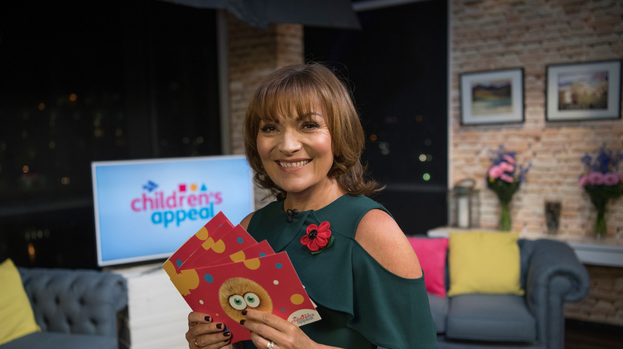 13 September 2018
STV has announced a line-up of programmes highlighting the work carried out by the STV Children's Appeal and fundraisers around the country to support children and young people across Scotland.
The programmes will air from Tuesday 18th September, culminating in the annual live STV Children's Appeal show hosted by Lorraine Kelly and Scottish entertainment reporter Ross King on Friday 5th October.
The special Appeal line-up will feature Sean Batty's Tunnock's Tea Party, which saw STV's popular weatherman jet off to Shetland to join locals for a day of tea parties and fundraising events, record-breaking adventurer Mark Beaumont joined by 80 intrepid cyclists for a gruelling 240-mile coast-to-coast challenge in aid of the Appeal, and a celebration of the incredible fundraising efforts taking place in communities across the country.
Viewers will also hear about some of the many charities and community projects supported by the Appeal and find out how the money makes a real difference to the lives of Scotland's children.
Lorraine Kelly, trustee of the STV Children's Appeal said: "It's truly heart warming to see that support for the STV Children's Appeal continues to grow in communities up and down the country. As always, this year we've seen so much generosity as schools, local businesses and individuals have given their time and commitment to raise funds for children and young people in Scotland – whilst having lots of fun together.
"I'm really looking forward to hosting this year's live show together with Ross – it's always fantastic to meet our incredible fundraisers and reveal how much Scotland has raised at the end of the show. Viewers can donate all day, so please help make a real difference for those who need our support."
The full schedule of STV Children's Appeal programming is as follows:
STV Children's Appeal: Your Help Matters - Tuesday 18th September at 19.30 on STV
The line-up of Appeal programming launches with STV Children's Appeal - Your Help Matters, presented by Andrea Brymer, in which viewers will meet some of the many children across Scotland who are facing difficult circumstances and find out how the money raised by the STV Children's Appeal helps them - and many more in their situation.
Andrea takes a look at four of the projects that will benefit from this year's fundraising campaign, including Glasgow Children's Holiday Scheme, which provides holidays for disadvantaged children and their families; Falkirk and Clackmannanshire young carers, a charity that works with local young carers to ensure they are recognised, supported and empowered to have a life of their own outside caring; Fife Gingerbread, a Leven-based charity supporting lone parent, vulnerable and disadvantaged families; and Edinburgh charity Kindred, which supports around 150 families a year at the Edinburgh's Royal Hospital for Sick Children, including siblings whose lives are impacted by the illness of their brother or sister.
Who Cares: Breaking the Cycle – Tuesday 25th September at 19.30 on STV
In a thought-provoking and revealing half-hour documentary, STV looks at the impact of Adverse Childhood Experiences on young people across Scotland and asks how we can ensure the best future for children affected.
Viewers will meet Scottish rapper and award-winning author Darren McGarvey - aka Loki - and public speaker and social commentator Chris Kilkenny as they examine the impact adversity has had on their own lives and visit community projects to learn how they are inspiring change across Scotland.
The documentary also includes contributions from Sir Harry Burns, Director of Global Public Health at University of Strathclyde, and Chief Superintendent Paul Main at Ayrshire Police.
STV Children's Appeal: Scotland on the Move – Monday 1st October at 20.00 on STV
The second programme in the line-up celebrates the fundraising heroes across Scotland who have given their time and effort to support the Appeal in 2018. STV's very own weatherman jetted off to Shetland for Sean Batty's Tunnock's Tea Party to join locals for tea parties and other fun events in aid of the Appeal, record-breaking adventurer Mark Beaumont was joined by 80 intrepid cyclists for a gruelling 240-mile cross-Scotland challenge, and viewers will hear from fundraisers from across Scotland who have been running, walking and cycling for the Appeal in the Great Run, Kiltwalk and Pedal for Scotland events.
Viewers will also learn more about how Appeal donations have helped families across Scotland with a closer look at two projects - Glasgow based Refuweegee, a community-led charity set up to ensure that all refugees arriving in Glasgow are welcomed to the city, and Richmond's Hope in Edinburgh, which provides support for bereaved children and young people.
STV Children's Appeal: Live with Lorraine - Friday 5th October from 20.00-20.30, then at 21.00 on STV
The annual STV Children's Appeal live show returns with hosts Lorraine Kelly and Ross King celebrating another fantastic year of fundraising for Scotland's children. Broadcast live from Glasgow, Lorraine and Ross are joined by presenter David Farrell with links to Andrea Brymer and Chris Harvey in Aberdeen, David Shanks in Dundee and Nicola McAlley in Inverness - before the total sum raised by the Appeal in 2018 is revealed.
All programming will be available for catch-up on the STV Player.