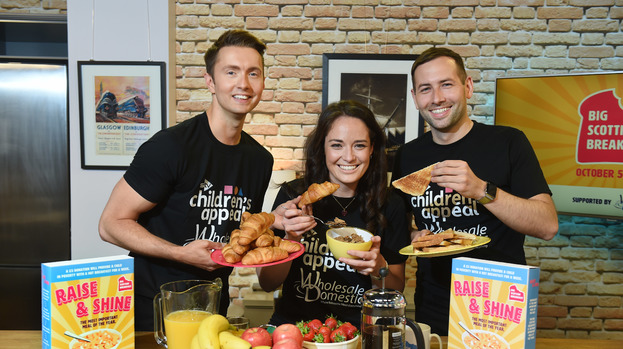 4 June 2018
Scotland's favourite weather presenter, STV's Sean Batty, is encouraging communities across Scotland to join in with the Big Scottish Breakfast, an annual STV Children's Appeal fundraising event supporting children and young people affected by poverty in Scotland.
The Big Scottish Breakfast will be held on Friday 5th October, with schools, businesses and sports teams across the country getting together for fun breakfast events to raise money for Scotland's children.
Sean was joined by STV presenters Jennifer Reoch and David Farrell to launch the campaign.
Sean Batty said: "The Big Scottish Breakfast got off to a great start last year with breakfast events across the country raising money for Scotland's children. I had lots of fun getting involved and it wasn't just a case of eating croissants and toast - most fundraisers had me doing spin classes, zumba or dancing to weather themed songs!
"This year we're determined to go even bigger and better, and I'd love to see schools, businesses and groups right across the country join in with their own Big Scottish Breakfast event.
"Remember, as well as tucking in to a delicious breakfast you can add a twist of get-up-and-go - morning exercise is great for clearing up any morning clouds and gets everyone bright and sunny for the day ahead!"
(L-R) Sean Batty, Walter Toward (Wholesale Domestic Bathrooms), Jennifer Reoch and David Farrell
Does your school, business, sports team or community group want to arrange its own Big Scottish Breakfast on Friday 5th October? Why not challenge your colleagues, teachers or friends to a game of hands-free cereal eating, a pancake toss challenge or some competitive toast art? Go to stv.tv/appeal to sign up and help give Scotland's children the best start in life.
Download your Big Scottish Breakfast Pack
OR
Download your Big Scottish Breakfast School Pack
Since launching in 2011, the STV Children's Appeal has raised £16.3 million, with 964 big and small grants awarded to projects across all 32 local authority areas in Scotland, providing much needed support to over 67,000 children. The money raised is distributed to provide practical help like food and warm clothes, create opportunities for training and employability, and enable social and emotional support for those who need it most.
The Big Scottish Breakfast is sponsored by Wholesale Domestic Bathrooms
Walter Toward, co-owner of Wholesale Domestic Bathrooms, said: "The Big Scottish Breakfast is a fantastic campaign by the STV Children's Appeal and we are very happy to be on board as this year's sponsor. I hope businesses across Scotland will join us in supporting Scotland's children with their very own Big Scottish Breakfast events on 5th October."