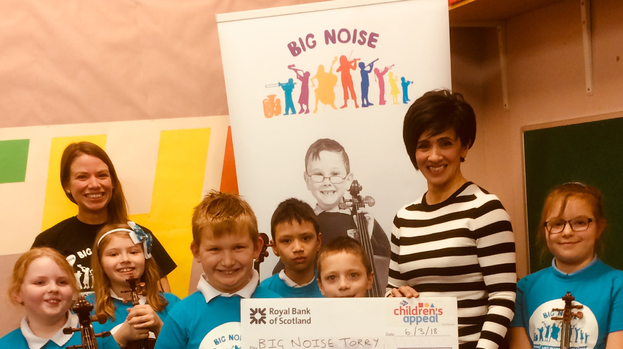 13 March 2018
Aberdeen community project Big Noise Torry has received £2,000 from the STV Children's Appeal to support its work with children in the local Torry community.
STV News presenter Andrea Brymer visited the project to meet some of the staff and children that will benefit from the funding.
Big Noise Torry is an orchestra programme working with over 500 babies and children in the Torry community. The project, which is run by charity Sistema Scotland in partnership with Aberdeen City Council, uses music to help children build confidence, resilience, pride and aspiration, and supports them in reaching their full potential and leading successful and fulfilled lives.
STV's Andrea Brymer said: "The first thing that struck me about Big Noise was the sheer number of children who are benefitting in Torry. What a fantastic opportunity for the youngsters not just to learn an instrument, but also to be a part of something so enriching and uplifting. The team of organisers and musicians go to great lengths to make sure everyone is included, regardless of their ability.
"However, I was probably most touched to learn of the pastoral support offered to children and their families. I'm thrilled that the STV Children's Appeal is supporting the Big Noise project - they sure do have a lot to shout about!"
Laura Horn, team leader at Big Noise Torry, said: "We are delighted that the STV Children's Appeal is supporting Big Noise Torry. The grant will help us continue our work with over 500 children in the Torry community. Independent research shows that Big Noise Torry not only boosts engagement with learning but also helps children develop social and life skills. Thank you to everyone involved in supporting the Appeal!"
Since launching in 2011, the STV Children's Appeal has raised £16.3 million, with 964 big and small grants awarded to projects across all 32 local authority areas in Scotland, providing much needed support to over 67,000 children. The money raised is distributed to provide practical help like food and warm clothes, create opportunities for training and employability, and enable social and emotional support for those who need it most.
Baroness Margaret Ford, chair of the board of trustees for STV Children's Appeal, said: "The STV Children's Appeal was established to help improve the quality of life of vulnerable children and young people across Scotland. We are extremely grateful to everyone who has fundraised and donated to this important cause – a special thanks for your ongoing support. All proceeds remain in Scotland which means we can support vital projects such as Big Noise Torry in our efforts to improve the lives of children across the country."
Sir Tom Hunter, trustee of the STV Children's Appeal, said: "Driving positive change is down to individuals, communities and charities who can make the world of difference to those young people most in need. Sincerely I thank everyone who has raised money for the STV Children's Appeal and can again confirm to every last one of you that every pound is being invested in charities like Big Noise Torry to the benefit of Scotland's young people. You raise a pound, we give a pound; you make a difference, we support that difference."
Sir Ian Wood, trustee of the STV Children's Appeal, said: "With over 200,000 children and young people in Scotland now affected by child poverty, it remains deeply troubling that so many lives across our country are impacted and life choices affected. Without the continued support of the public the significant work carried out by the STV Children's Appeal in providing support, help and opportunities for those who most need could not happen. We all must play our part, no matter how large or small, in reducing these shocking statistics and enabling families to take back some control of their situation."
If you would like to help raise funds for Scotland's children – as a group or an individual - please get in touch with Natalie Wright at natalie.wright@stv.tv.