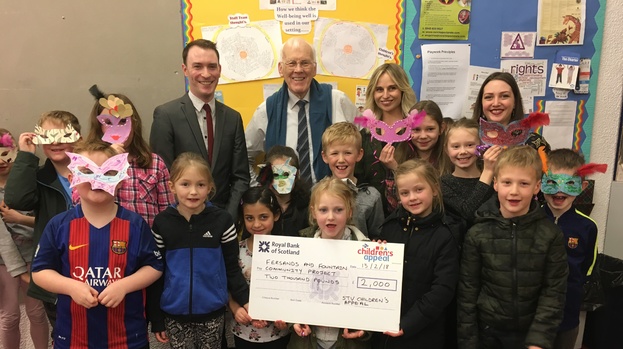 20 February 2018
Fersands and Fountain Community Project in Aberdeen has received £2,000 from the STV Children's Appeal, boosting financial support for the local service.
Sir Ian Wood, Chairman of The Wood Foundation, who is also a Trustee of the STV Children's Appeal, visited the project to present the cheque and meet some of the children who will benefit from the funding.
Based in the Woodside area of Aberdeen, Fersands and Fountain provides advice, education and support to the most vulnerable and hard to reach families in the area. By involving local residents in creating, managing and delivering services it hopes to increase opportunity, improve living standards and lessen the effects of poverty.
The project offers a range of services including nursery groups, mother and toddler groups, adult education, After School Club and youth work programmes, as well as a food bank and free meal events.
Sir Ian Wood said: "I really enjoyed my visit to Fersands and Fountain Community Project. The whole atmosphere with the children, parents and the community workers was positive and happy. The children loved making their masks and at the same time chomping into a pancake buffet for Shrove Tuesday. The facilities themselves are very impressive with a wide variety of potential activities for local children of virtually all ages from the local community. It is heartening to see a community come together to deliver a range of valuable services and activities to help children and young people in the Sandilands area feel happier, healthier and more confident."
Mark Lovie, Project Coordinator at Fersands and Fountain Community Project, said: "The money from STV Children's Appeal helps us to provide a continuous support to the local families from one of the most deprived areas of Aberdeen. We have used the funds to run activities for children, integrate families and to create a happy place where everyone can get involved, learn and feel supported."
Since launching in 2011, the STV Children's Appeal has raised over £16.3 million, with 964 big and small grants awarded to projects across all 32 local authority areas in Scotland, providing much needed support to over 67,000 children. The money raised is distributed to provide practical help like food and warm clothes, create opportunities for training and employability, and enable social and emotional support for those who need it most.
Baroness Margaret Ford, chair of the board of trustees for STV Children's Appeal, said: "The STV Children's Appeal was established to help improve the quality of life of vulnerable children and young people across Scotland. We are extremely grateful to everyone who has fundraised and donated to this important cause – a special thanks for your ongoing support. All proceeds remain in Scotland which means we can support vital projects such as Fersands and Fountain Community Project in our efforts to improve the lives of children across the country."
Sir Tom Hunter, trustee of the STV Children's Appeal, said: "Driving positive change is down to individuals, communities and charities who can make the world of difference to those young people most in need. Sincerely I thank everyone who has raised money for the STV Children's Appeal and can again confirm to every last one of you that every pound is being invested in charities like Fersands and Fountain Community Project to the benefit of Scotland's young people. You raise a pound, we give a pound; you make a difference, we support that difference."
If you would like to help raise funds for Scotland's children – as a group or an individual - please get in touch with Natalie Wright at natalie.wright@stv.tv.