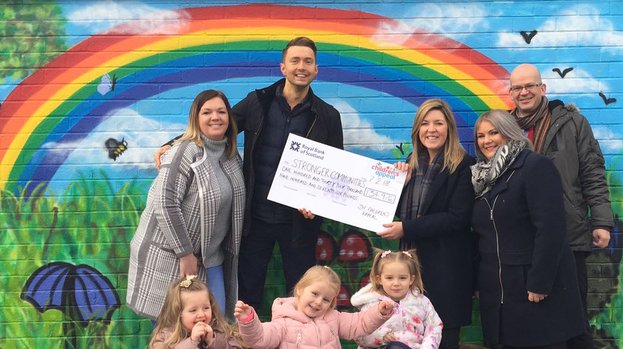 15 February 2018
The STV Children's Appeal is supporting children and young people affected by poverty in Paisley with funding awarded to two local charitable projects.
Who Cares? Scotland and Stronger Communities, both based in Paisley, have received funding from the STV Children's Appeal to support their work to improve the lives of children and young people in their community.
STV weather presenter Sean Batty visited both projects to present the cheques and meet some of the families and young people who will benefit from the funding.
Sean Batty said: "While my fundraising challenges for the STV Children's Appeal are great fun, I love this part, where I'm able to see how the money is helping families and young people across the country. It was an absolute pleasure to be in my home of Renfrewshire to hand over two very big cheques to Who Cares? Scotland and Stronger Communities. When I meet the people involved with projects like this, it always makes me determined to get more behind the Appeal each year to raise even more money."
• Who Cares? Scotland, which has received £211,864 from the Appeal, works with children and young people who have experience of the care system. In Renfrewshire, supported by Appeal funding, the organisation is working with care professionals, local volunteers and community groups to educate them about life in care and how they can make a difference. Who Cares? Scotland wants to make Renfrewshire the best place for care experienced young people to grow up; a place where they are loved, accepted and championed by their communities.
Duncan Dunlop, CEO of Who Cares? Scotland said: "Thanks to the support of the STV Children's Appeal, Who Cares? Scotland is able to deliver ground breaking work in Renfrewshire. Our vision is for those with experience of care to have a lifetime of equality, respect and love. Support from the STV Children's Appeal brings that even closer to reality.
"The dedication of our 'Communities that Care' team and Renfrewshire Council means that children and young people in care have opportunities to talk, learn and have fun that didn't exist before. As well as giving young people opportunities to feel less alone, we are also working across the community to educate members of the public on the challenges that care experienced people face. This funding will make a huge difference to the lives of the children and young people that we work with.
• Stronger Communities, which has been awarded £134,976, is delivered in the Glenburn area by Save the Children, in partnership with other children's charities. The initiative brings together local people and service providers to identify the changes needed to improve the lives of children in the community, with initiatives including a parent and toddler group, outdoor learning and a swap shop providing affordable children's clothing and toys.
Laura Devine, Stronger Communities Manager, said: "We feel so privileged to have been awarded additional funding from the STV Children's Appeal, to carry on this exciting and important work in Paisley and in a new community beginning in spring.
"We want to thank the STV Children's Appeal and everyone who raised funds. The money we've received will allow us bring people together and harness the strength of the community to address the issues that are most important to children and their families. Communities alongside local services have really got behind the initiative, seeing it as great opportunity to make their area a better place for children to grow up".
Since launching in 2011, the STV Children's Appeal has raised over £16.3 million, with 964 big and small grants awarded to projects across all 32 local authority areas in Scotland, providing much needed support to over 67,000 children. The money raised is distributed to provide practical help like food and warm clothes, create opportunities for training and employability, and enable social and emotional support for those who need it most.
Baroness Margaret Ford, chair of the board of trustees for STV Children's Appeal, said: "The STV Children's Appeal was established to help improve the quality of life of vulnerable children and young people across Scotland. We are extremely grateful to everyone who has fundraised and donated to this important cause – a special thanks for your ongoing support. All proceeds remain in Scotland which means we can support these vital projects in our efforts to improve the lives of children across the country."
If you would like to help raise funds for Scotland's children – as a group or an individual - please get in touch with Natalie Wright at natalie.wright@stv.tv.