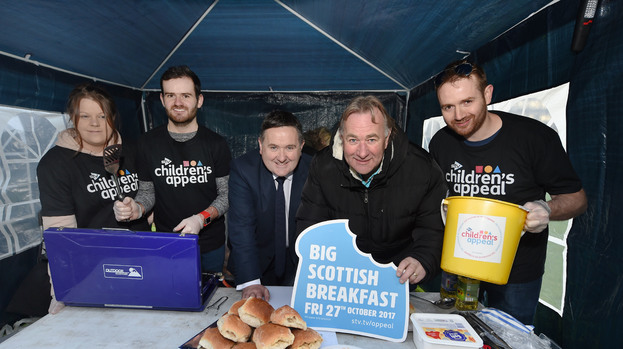 STV2's Peter Martin and Alan Rough joined Glasgow community group Help the Homeless on the city's George Square this morning (Friday 27th October) to cook a free hot breakfast for the homeless.
The presenters of Peter & Roughie's Football Show and Help the Homeless are supporting the Big Scottish Breakfast event, run by the STV Children's Appeal in aid of children and young people affected by poverty in Scotland.
Peter Martin said: "We all know breakfast is the most important meal of the day but not everyone is fortunate enough to take it for granted. It's great to see the people of Glasgow dig deep today to support the great work by the STV Children's Appeal to help Scotland's children, while also helping to provide a hot meal for those going hungry this morning."
Helen McMillan of Help the Homeless said: "By running our Big Scottish Breakfast event in aid of STV Children's Appeal we are not only able to support children living in poverty in Scotland but also our city's homeless community."
You can help support Scotland's children with a £5 donation to the STV Children's Appeal - just text "STVA17 5" to 70070.