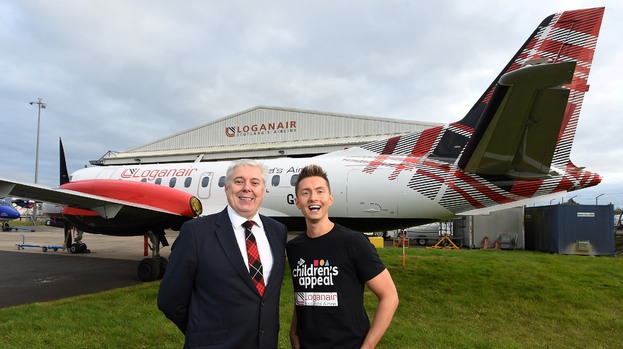 STV weatherman Sean Batty is hoping for clear skies as he jets off to Orkney for a day of fun activities to support the Big Scottish Breakfast campaign by the STV Children's Appeal.
On Thursday 26th and Friday 27thOctober, Sean will meet with local Orkney businesses who are raising funds for children and young people affected by poverty in Scotland.
Sean said: "I'm really looking forward to returning to Orkney next week. I cycled round Orkney for the STV Children's Appeal back in 2013 and there were so many generous communities, as well as the beautiful scenery of course, that I decided to revisit and celebrate our Big Scottish Breakfast in style.
"Next Thursday (26th October) I'll be sharing a cuppa with the crew and passengers on my Loganair flight to Orkney. That evening, I'll be hosting a Big Scottish Quiz Night and raffle at the Albert Hotel. It's set to be a fun night so please come along with some friends and help make Orkney one of our top fundraisers once again!
"On Friday 27th I'll travel around the mainland trying to meet as many residents as possible to join them for fundraising activities and cakes. I'll also enjoy a Big Scottish Breakfast with the alpacas and other animals at Skate Rumple!"
Scotland's Airline Loganair is supporting Sean's fundraising efforts with complimentary flights to and from Kirkwall.
Loganair chief operating officer, Maurice Boyle, said: "The STV Children's Appeal is a great cause, and we're pleased to help Sean get to Orkney for his fundraising exploits. Orkney is right at the heart of our operations, and we're currently running our first-ever TV adverts on STV."
Sean will start off his flying visit to Orkney by hosting a pub quiz at the Albert Hotel in Kirkwall on Thursday 26th October, with donations going to the STV Children's Appeal
A number of local businesses are backing Sean's fundraising visit, including Skate Rumple farm, who will host a breakfast with the animals and hold a raffle and 'guess the weight of the Batty Bear' competition, Julia's Café and Stockan's Oatcakes in Stromness and collections for the Appeal at Tesco Kirkwall.
Schools, businesses, sports teams and community groups across Scotland will be fundraising for children affected by poverty with a Big Scottish Breakfast on Friday 27th October.
If you would like to arrange your own Big Scottish Breakfast on 27th October to help raise money for Scotland's children, go to stv.tv/appeal to sign up.