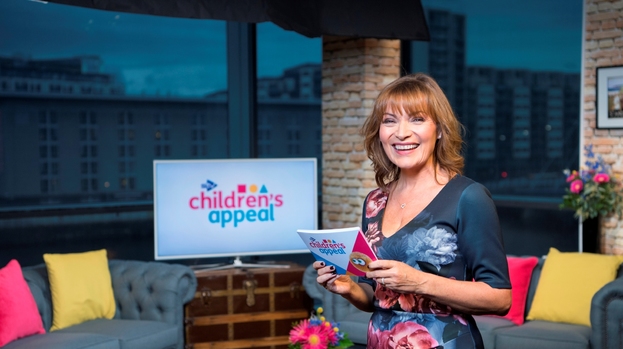 STV has announced a range of programmes to highlight the work carried out by the STV Children's Appeal and fundraisers across the country to support children and young people living in poverty in Scotland.
The programmes will air from Tuesday 17th October, culminating in the annual live STV Children's Appeal show hosted by Lorraine Kelly on Friday 3rd November. Over the three weeks, viewers will hear about the host of charities and community projects supported by the Appeal and find out how the money makes a real difference to the lives of Scotland's children.
The special Appeal programming will feature a hard-hitting documentary about homelessness in Scotland, a look at STV weatherman Sean Batty's fundraising tour of schools and the Appeal 'Bounceathon', when STV2 presenters Jennifer Reoch and David Farrell took part in a 12-hour trampolining challenge, and STV will celebrate the fundraising efforts of communities across the country and show why their hard work matters so much.
Lorraine Kelly, trustee of the STV Children's Appeal said: "After six years of raising crucial funds for children and young people affected by poverty in Scotland, it's fantastic to see that support for the STV Children's Appeal continues to grow in communities up and down the country. This year we have seen some brilliant fundraising events by schools, local businesses and individuals who have given their time and commitment to this hugely important cause - while having lots of fun. The generosity shown by those getting involved, on any level, is truly heart warming.
"I'm looking forward to once again hosting the Appeal live show on Friday 3rd November and finding out how much Scotland has raised for children in poverty. Viewers can donate all day, so please help us make a real difference for those who need our help."
The full schedule of programming for the STV Children's Appeal programming is as follows:
Who Cares: Scotland's Hidden Homeless - Monday 30th October at 20.00 on STV
In a thought provoking and revealing half hour documentary, STV looks at the hidden aspects of homelessness in Scotland. Viewers will hear from individuals and families who have been, or still are, dealing with issues of homelessness, and who are determined to make the situation better for those affected.
Scotland's Hidden Homeless features interviews with David Duke, founder of Street Soccer Scotland - a social enterprise that uses football to help create positive change in the lives of socially disadvantaged adults and young people, Shelter Scotland and Scottish author Kerry Hudson, who herself has faced homelessness. The programme also meets a network of Edinburgh mums who are pulling together to support each other through homelessness.
Lorraine's Big Live - Friday 3rd November from 20.00-20.30, then at 21.00 on STV
The annual STV Children's Appeal live show returns with host Lorraine Kelly celebrating another fantastic year of fundraising and those who have shared their stories. Broadcast live from Glasgow, Lorraine is joined by presenters David Farrell and Ewen Cameron - with links to Sean Batty and Jennifer Reoch in Edinburgh, Andrea Brymer in Aberdeen, Louise Cowie in Dundee and Nicola McAlley in Inverness- before the total sum raised by the Appeal in 2017 is revealed at the end of the show .
The Appeal programmes will be repeated on STV2 and the live show on 3rd November will be simulcast for STV2 viewers. All programming will also be available for catch-up on the STV Player.