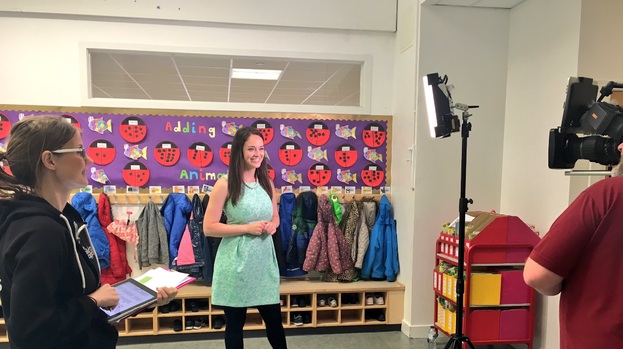 STV will celebrate the fantastic fundraising efforts taking place across the country to help Scotland's children in STV Children's Appeal Summer Special, broadcast on Friday 4 August at 8pm.
In this 30 minute programme, presenter Jennifer Reoch takes a look at some of the incredible and unique fundraising activities that has kicked off this year's STV Children's Appeal campaign and shines a light on Scotland's fundraising heroes, who are all doing their bit to support children affected by poverty.
In May, STV weatherman Sean Batty set off on week-long fundraising tour of Scottish schools, where he met some of the Appeal's youngest supporters and took part in an array of weird and wonderful challenges arranged by pupils and teachers - including a bush tucker trial, danceathons, pie throwing and reporting the weather in Gaelic - all to raise crucial funds for the children who need it the most. Sean will continue his popular fundraising tour of Scottish schools in October.
Viewers will join the thousands of fundraisers who took part in The Kiltwalk in Aberdeen and Glasgow, the Great Women's 10K in Glasgow, the Great Edinburgh Run, and Pedal for Scotland's Wee Jaunt in Falkirk, all playing a part in STV Children's Appeal's fight against child poverty.
STV Children's Appeal Summer Special will also highlight some of the projects who will benefit from the funds raised, including PEEK in Glasgow, a charity that works with children, young people and families in the East and North of Glasgow to improve their quality of life through play, arts, volunteering and physical activity.
Presenter Jennifer Reoch said: "The STV Children's Appeal funds incredible causes and makes a real difference to young lives across Scotland and I am so delighted to be involved once again. This programme is full of amazing stories, highlighting exactly why it is so important to fundraise and I hope it will inspire many more to take on their own fundraising challenges, all in aid of the STV Children's Appeal."
Since launching in 2011, the STV Children's Appeal has raised over £13.7 million, with 722 big and small grants distributed to projects across all 32 local authority areas in Scotland, providing much needed support to over 62,000 children. The money raised is distributed to provide practical help like food and warm clothes; create opportunities for training and employability; and enable social and emotional support for those who need it most.