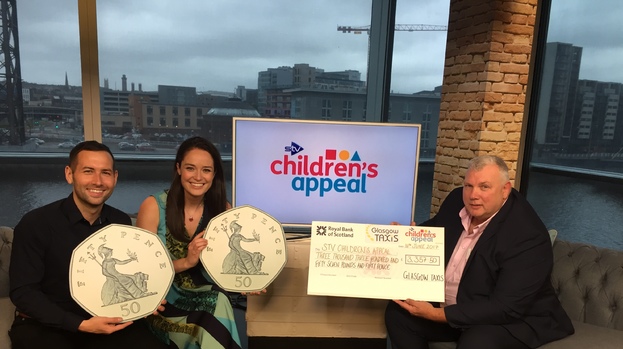 The STV Children's Appeal has received a £3357.50 boost thanks to the generosity of staff, drivers and customers of Glasgow Taxis Ltd.
In the latest gesture of support for the STV Children's Appeal, Glasgow Taxis Ltd nominated the last Sunday of May as a "50p Sunday", meaning that for every taxi fare on that day they donated 50p to the Appeal.
Thanks to almost 7,000 individually booked fares being undertaken on the day Glasgow Taxis Ltd has sent the sizeable cheque to STV Children's Appeal which will help young people across Scotland.
Glasgow Taxis Ltd Chairman Stephen Flynn, speaking on behalf of the company's executive committee, said: "The STV Children's Appeal is a truly deserving cause which Glasgow Taxis Ltd is proud to support. We'd like to thank all our staff, drivers and customers who enabled us to make this donation which will help some young people across Scotland who need it most."
Elizabeth Partyka of the STV Children's Appeal said: "We are very grateful to Glasgow Taxis Ltd for raising funds for STV Children's Appeal as part of the 50p Sunday campaign. Every donation brings us one step closer to making a real difference to the lives of children and young people affected by poverty in Scotland. Our sincere thanks to Glasgow Taxis Ltd staff, drivers and customers who helped; we look forward to working together later this year to raise even more for Scotland's children."
Such was the success of Glasgow Taxis Ltd's 50p Sunday STV Appeal that they have committed to doing another later this year. Watch this space ...