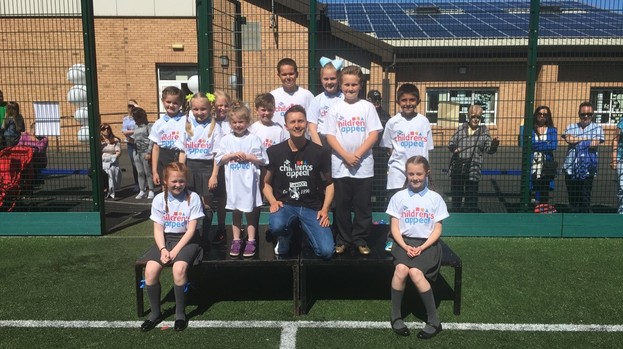 13 June 2016
STV weatherman Sean Batty is set to head back to the classroom to raise funds for STV Children's Appeal 2017.
Sean is looking for primary and secondary schools in Inverness, Moray, Aberdeen, Aberdeenshire, Dundee, Angus, West Lothian and all of Ayrshire to visit on 29th September and between 2nd to the 6th October that will each organise a fundraising event to help children and young people in Scotland affected by poverty.
To get involved with 'Back to school with Sean Batty', the fundraisers could be a sports day, dance-a-thon, bake sale, dressing up day, fun day or another creative idea to raise money for Scotland's children.
A number of schools will be visited by Sean each day across five days of fundraising throughout Scotland and will be filmed for STV Children's Appeal programming.
STV's Sean Batty said: "I have been a long time supporter and fundraiser for the STV Children's Appeal, having cycled across the Western Isles and Northern Isles, competed in highland games, sporting events, baking contests and climbed Ben Nevis to raise money for Scotland's children.
"Over the years, schools across the country have been some of the best supporters, so this year I'll do something completely different and go back to school to meet some brand new fundraising champions. I can't wait to get involved with what I'm sure will be brilliant activities around Scotland.
Elizabeth Partyka, of the STV Children's Appeal, said: "Sean is a fantastic ambassador for the Appeal and we wish him luck on his fundraising tour of Scottish schools. The STV Children's Appeal is making a real difference in the lives of children throughout Scotland and it's fantastic to engage with communities and get local children involved in the fundraising."
Sean's tour of Scotland's schools will include:
• 29th September – Dundee and Angus
• 2nd October – Inverness and Moray
• 3rd October – Aberdeen and Aberdeenshire
• 4th and 5th October - West Lothian
• 6th October – North Ayrshire, East Ayrshire and South Ayrshire
Sean's challenge will be supported by Tunnock's with a £8,500 sponsorship and lots of goodies for the schools who are taking part.
Since launching in 2011, the STV Children's Appeal has raised over £13.7 million, with 722 big and small grants distributed to projects across all 32 local authority areas in Scotland, providing much needed support to over 62,000 children. The money raised is distributed to provide practical help like food and warm clothes; create opportunities for training and employability; and enable social and emotional support for those who need it most.
If your school would like to get involved with 'Back to school with Sean Batty' this May and help raise funds for the STV Children's Appeal, please get in touch with Mari Slavin on mari.slavin@stv.tv. To or to support Sean's fundraising challenge and make a donation to the STV Children's Appeal, visit the website