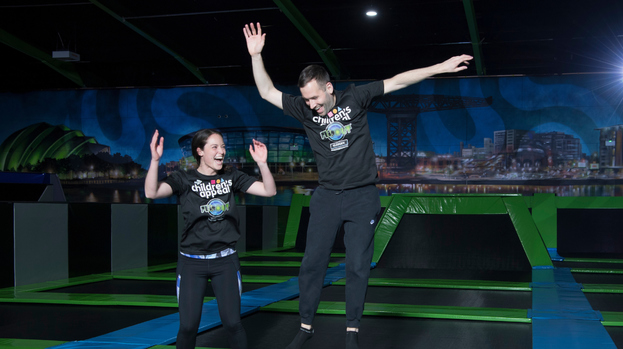 STV2's Live at Five presenters Jennifer Reoch and David Farrell joined children from Aspire Trampoline Club at Flip Out trampoline park in Glasgow to launch their 12 hour Bounceathon challenge in aid of STV Children's Appeal 2017.
The Bounceathon fundraising challenge will see Jennifer and David jump, bounce and flip from 9am to 9pm on 13 October at Flip Out's 63,000sq ft centre in Glasgow, with groups and individuals invited to get involved and join in on the day.
Bouncers and flippers of all ages are invited to join Jennifer and David for one hour slots on 13 October, to help raise funds for children affected by poverty in Scotland. To be part of the fun and bounce for Scotland's children, contact angela.wilson@stv.tv to book your slot.
Flip Out is supporting Jennifer and David's high flying challenge with a £2,500 sponsorship to boost their fundraising for STV Children's Appeal, which also includes David completing the Great Edinburgh Run in April and Jennifer taking on the Great Women's 10k in June.
Suggested minimum donation of £8 per individual or £60 for a group of 10. Every penny you donate will go straight to STV Appeal.
What's included:
-1 hour 'bounce' at Flip Out Glasgow
-Trampoline socks
-Juice & Snack
-Party Bag
Live at Five presenter David Farrell said: "I'm really looking forward to our Bounceathon at Flip Out... and really nervous! It's a great fun way to raise as much money as we can for the STV Children's Appeal and we would encourage as many families, businesses and individuals as possible to come down and bounce with us, because we will definitely need the help!"
David's co-presenter Jennifer Reoch said: "David and I have been lucky enough to take part in some amazing challenges for the STV Children's Appeal but this year we wanted to do something a bit different so we have taken on our most difficult challenge yet - 12 hours of bouncing on a trampoline - it is NOT going to be easy! That's why we need everyone's help to come along and join us in bouncing our way to raising some much needed funds for the STV Children's Appeal."
George Gallacher, general manager at Flip Out Glasgow, said: "David and Jennifer are taking on a real challenge over the next few months and we're delighted to be able to support them. The STV Children's Appeal has been doing a brilliant job of supporting vulnerable children across Scotland and we can't wait to get our flippers involved in raising valuable funds for this important cause."
Since launching in 2011, the STV Children's Appeal has raised over £13.7 million, with 722 big and small grants distributed to projects across all 32 local authority areas in Scotland, providing much needed support to over 62,000 children. The money raised is distributed to provide practical help like food and warm clothes; create opportunities for training and employability; and enable social and emotional support for those who need it most.