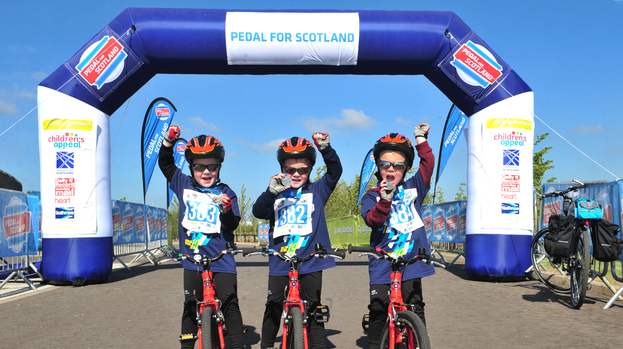 Around 500 people showed their pedal power at the weekend as they took part in the Wee Jaunt Falkirk bike ride, organised by Cycling Scotland as part of Pedal for Scotland.
Four-legged media sensation and Commonwealth Games legend, Hamish the Dog, was joined by a sell-out crowd of 500 people at the start line in the Helix Park.
The Wee Jaunt Falkirk is the latest addition to the Pedal for Scotland family, and welcomes people of all ages and abilities to pedal their way around the 7.5 mile traffic free route, starting in the Helix Park, taking in Falkirk Stadium and the iconic Kelpies.
Keith Irving, Chief Executive of event organiser Cycling Scotland said: "A sold out Wee Jaunt Falkirk in its first year shows the appetite for accessible family cycling events in central Scotland. Seeing so many friends and families coming together for a fun day out is great to see, and many of those who took part will continue to enjoy cycling after the event.
"Support for our event charity partner, the STV Children's Appeal, has been fantastic with many of the Wee Jaunt Falkirk participants raising funds for children in Scotland living in poverty. We are also grateful for the support from the Falkirk Community Trust and Falkirk Council in helping make this event possible."
The Wee Jaunt Falkirk is part of Pedal for Scotland, which returns in 2017 for its 19th year and regularly attracts around 10,000 people across the Wee Jaunt, Classic Challenge and Big Belter rides. It is supported by Transport Scotland and sponsored by Sustrans Scotland.
Many participants will be raising money for children and young people affected by poverty by supporting the event's charity partner, the STV Children's Appeal.
To sign up for Pedal for Scotland on 10 September and help raise money for STV Children's Appeal visit: www.pedalforscotland.org.