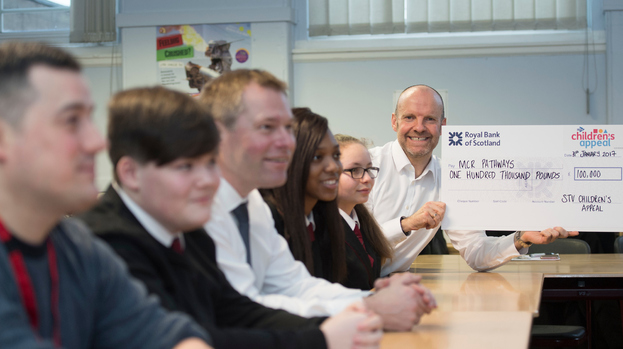 1 February 2017
Community project MCR Pathways in Glasgow has received £100,000 from the STV Children's Appeal, boosting support for the local initiative.
Rob Woodward, STV CEO and trustee of the STV Children's Appeal, visited the project to present the cheque to Iain MacRitchie, Founder and CEO of MCR Pathways, and meet with some of the young people who benefit from the project.
MCR Pathways is a pioneering partnership between the MCR Foundation and Glasgow City Council supporting disadvantaged young people, especially those in the care system, in realising their full potential through education. Founded in 2007 and developed in one school over five years, the programme recruits mentors and organisations for its schools based mentoring and talent taster programme. The project now supports over 500 young people across 15 schools in Glasgow, with a citywide expansion plan and national ambition.
Iain MacRitchie, Founder and CEO of MCR Pathways, said: "It is fantastic to have the STV Children's Appeal as a partner in our drive to reach every disadvantaged and care-experienced young person across the city. These young people are our future and it's a privilege to help find, grow and use their talents. Despite the challenges they experience, their motivation, commitment and resilience is amazing. It is brilliant to have so many committed partners, corporates and volunteers. MCR Pathways is an enriching experience for all and a proven model that so often demonstrates that by inspiring a young person, we inspire ourselves."
Since launching in 2011, the STV Children's Appeal has raised over £13.7 million, with 722 big and small grants distributed to projects across all 32 local authority areas in Scotland, providing much needed support to over 62,000 children. The money raised is distributed to provide practical help like food and warm clothes; create opportunities for training and employability; and enable social and emotional support for those who need it most.