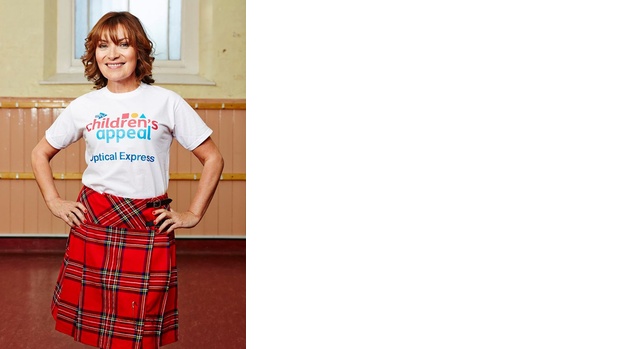 1st June 2015
Lorraine Kelly will be taking to the dance floor in aid of the STV Children's Appeal this September, as she dons her kilt for a 24 hour ceilidh extravaganza.
After the success of last year's Shimmy across Scotland which raised £100,000 for the Appeal, the ceilidh challenge will see Lorraine do-si-do-ing her way around the country with the support of her friend Maxine Jones and sponsor Optical Express to raise money for children living in poverty across Scotland.
From the Gay Gordons and Strip the Willow to the Pride of Erin Waltz, Lorraine will be getting Scotland moving with 24 hours of ceilidh dancing. Working alongside the Royal Scottish Country Dance Society (RSCDS), Lorraine will be encouraging groups not only in Scotland, but also internationally, to host their own ceilidh events on the 11th-12th September to help Scotland's young people.
Lorraine Kelly, trustee of the STV Children's Appeal, said: "Last year I took on a 24 hour shimmy for the Appeal and this year I'll be putting my dancing shoes back on. Over 24 hours I'll be challenging myself by taking on a series of ceilidhs to raise money for children and young people in Scotland affected by poverty. Maxine and I will be travelling across Scotland in September and also encouraging other groups across the globe to join us and host their own fundraising ceilidhs to help raise as much as possible for this vital cause. It'll be a challenge to keep going but hopefully with support from fellow dancers around the world, I'll get through."
Lorraine's 24 hour ceilidh will be captured by STV's cameras for the STV Children's Appeal programme to be broadcast later this year.
Elizabeth Partyka of the STV Children's Appeal said: "We are thrilled Lorraine will be embarking on another exciting fundraising challenge this year. With support from local communities, the RSCDS and sponsor Optical Express, we are sure Lorraine's 24 hour ceilidh will help make a real difference to the lives of children and young people affected by poverty."
To mark the occasion, the RSCDS have devised a bespoke ceilidh dance for Lorraine - Kelly's Kaper, with a video and dance instructions available for individuals and groups who want to participate.
Elizabeth Foster, Executive Officer of the RSCDS said: "We are delighted to partner STV Children's Appeal for 2015. We are pleased to be associated with this worthwhile cause and to play our part in helping to raise money for disadvantaged children and young people in Scotland. In many ways this follows on from the successful Commonwealth Ceilidh in 2014 which saw thousands of people around the globe taking part in one massive ceilidh. With some 14,000 RSCDS members worldwide we expect the STV Children's Appeal to resonate far beyond Scotland."
Optical Express will be supporting Lorraine Kelly's Ceilidh Challenge.
David Moulsdale, Chairman and Chief Executive of Optical Express, said: "We are extremely proud to be increasing the support we provide to the STV Children's Appeal. Being part of the STV Children's Appeal is very important to Optical Express. We've been involved with the Appeal since it launched back in 2011 because we passionately believe that tackling child poverty in Scotland will help to ensure that young people have the best possible opportunities while growing up."
"We can't wait to see Lorraine dance her way across the country and we look forward to undertaking our own fundraising challenges throughout our network of Optical Express clinics in Scotland."
If you're an individual or group that would like to get involved with Lorraine Kelly's Ceilidhs in aid of the STV Children's Appeal and help raise funds for children and young people living in poverty in Scotland, please get in touch with Ami Anderson on ami.anderson@stv.tv.
Click here to get your very own copy of Kelly's Kaper specially made Ceilidh Track
Not seen Lorraine's promo yet?
To support Lorraine's fundraising challenge and make a donation to the STV Children's Appeal, visit Lorraine's JustGiving