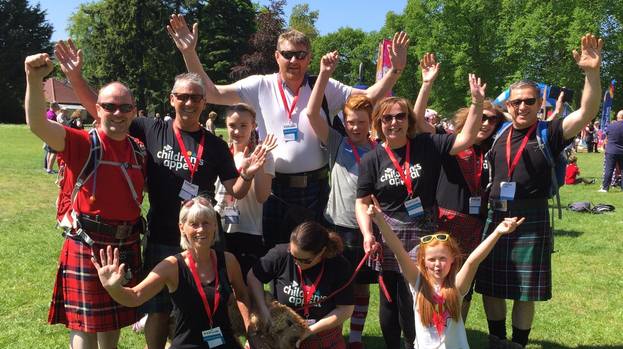 The STV Children's Appeal prides itself in supporting projects in all of Scotland's 32 local authorities - so unsurprisingly, people across the country show their support by hosting events themselves to help raise as much money as possible.
There's a wide variety of things that you can do - and the Appeal can help make it happen.
Host your own Big Scottish Breakfast
TV favourite Lorraine Kelly has 'raised a toast' to launch the Big Scottish Breakfast, an STV Children's Appeal fundraising event to support children and young people affected by poverty in Scotland.
Do you know or work for a school, business, sports team or community group who would like to arrange their own Big Scottish Breakfast on Friday 27th October? Why not challenge your colleagues, teachers or friends to a game of hands free cereal eating, a pancake toss challenge or some competitive toast art?
If interested, email angela.wilson@stv.tv for more information and help give Scotland's children the best start in life.
Make sure to tag us in your photos using the hastag #BigScottishBreakfast to show off your fundraising breakfasts.
Join STV2 Presenters 12 hour Bounceathon
On 13th October STV2 Presenters Jennifer Reoch and David Farrell will jump, bounce and flip from 9am to 9pm at Flip Out's 63,000sq ft centre in Glasgow to raise money for STV Children's Appeal.
Bouncers and flippers of all ages are invited to join for one hour slots on 13 October to help raise funds for children affected by poverty in Scotland.
Suggested minimum donation of £8 per individual or £60 for a group of 10. Every penny you donate will go straight to STV Appeal.
What's included:
-1 hour 'bounce' at Flip Out Glasgow
-Trampoline socks
-Juice & Snack
-Party Bag
To be part of the fun and bounce for Scotland's children, contact angela.wilson@stv.tv to book your slot.
A Bit of a Brew
Royal Bank of Scotland have done it - so why don't you consider turning a daily staple into a refreshing fundraiser for the STV Children's Appeal in 2017? The cuppa, a brew, tea, cha, call it what you will, why not make it into a special wee occasion and help raise funds for the Appeal?
In 2016 many of the Royal Bank of Scotland branches across the country hosted STeaV parties to help raise money for the STV Children's Appeal. Again this year they are busy planning their STeaV parties where customers get the chance to get sip into a cuppa, get stuck in to some home baking and enjoy a wee bit of banter in exchange for a donation to the Appeal.
It really is simple. So why don't you consider doing the same?
If you decide to get involved let us know and send your photos to stvappeal@stv.tv or post them on Twitter with the hashtag #stvappeal.
Get on Your Bike
Since 2013, the STV Children's Appeal has been official charity partner for Pedal for Scotland annual cycle ride from Glasgow to Edinburgh.
It is the biggest event of its kind in the country, with thousands of cyclists taking part, all of varying ages - and all of varying levels of fitness.
Click here to find out more about this event and how you can get invovled
There's no excuse!
As long as you have the imagination and a wee bit of time, then there's no excuse. You can find lots of fundraising materials in the fundraising section of the website which includes everything from sponsor forms to posters.
Remember to let the Appeal Team know what fabulous fundraising you are doing - we'll be sure to add your pictures and activity to our Facebook, Instagram and Twitter pages. And you never know, you might just find yourself invited to our STV Children's Appeal Live Show!