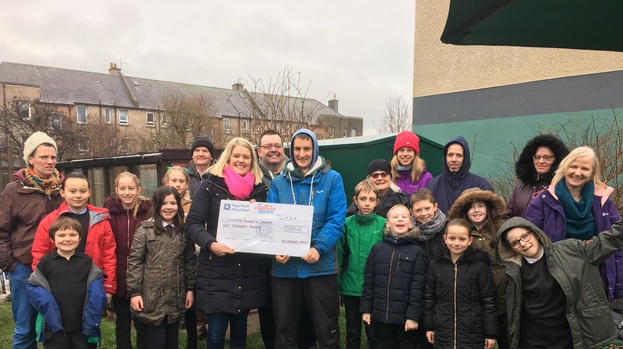 One in four children and young people live in poverty in Scotland, affecting over 220,000 people.
For some, the issue is so acute that some families have to make the heartbreaking decision each day as to whether it is more important to heat their house or sit down to eat.
It was in the face of such frightening statistics that the STV Children's Appeal was launched.
The STV Children's Appeal was launched in 2011 by The Hunter Foundation and STV. They came together to raise funds and to help make a real difference to those who need it most, by providing practical help like food and warm clothes; creating opportunities for training and employability; and enabling social and emotional support.
The STV Children's Appeal works closely with Scotland's leading experts in the field of child poverty, sharing knowledge and expertise with both small community groups and national charities on their experiences of addressing the challenges of child poverty in Scotland.
In just six years the Appeal has managed to raise £13.7 million, allowing us to make 722 big and small awards across all 32 local authority areas in Scotland, providing much needed support to over 62,000 children.
National Support
Its efforts have won the support of some of the country's biggest business, groups and organisations.
RBS, Lidl, QMS and BaxterStorey are just some of the companies that have decided to pledge their support to the STV Children's Appeal, raising hundreds of thousands of pounds and helping raise the profile of an issue affecting so many people across Scotland.
Since the launch, the Scottish Government has match funded the monies raised by the STV Children's Appeal each year, and for 2017 have pledged to match fund up to £1m.
Leading Names
Sir Tom Hunter of the Hunter Foundation and STV Chief Executive Rob Woodward are members of the STV Children's Appeal Board, working alongside Baroness Margaret Ford, TV personality Lorraine Kelly, Craig Patterson Founder of Football Aid , Ewan Hunter of the Hunter Foundation and STV CFO George Watt.
Philanthropist and founder of the Wood Family Trust, Sir Ian Wood, also joined the board in 2013, pledging his support to the STV Children's Appeal for projects in the North East.
Other well-known philanthropists and entrepreneurs such as Sir Willie Haughey, Alan Revie and artist Gerard Burns are supporters of the Children's Appeal too.
Specialists in the field of child poverty and social deprivation including John Carnochan and Sir Harry Burns also advise the STV Children's Appeal on where it should invest and on which projects require support.
Community Success
The STV Children's Appeal's success is down to the support it receives from community leaders and non-profit making organisations across Scotland who offer their time and resource to fundraise for the STV Children's Appeal annually.
The Rotary Club and the Girl Guides are regular supporters of the STV Children's Appeal's efforts.
For 2017, schools across Scotland have got involved in Sean Batty Back to School fundraiser where they have organised a fundraising activity including: sponsored danceathon, sports day, dress down day and backpacking events. Sean is back on the road in October.
For the fifth year in succession, Cycling Scotland has made the STV Children's Appeal the official charity partner for Pedal for Scotland, the biggest bike ride in the country.
The annual event sees thousands of cyclists ride all the way from Glasgow Green through to Royal Highland Centre in Edinburgh.